Main Content
Real estate at The Cannery, Davis, CA
Sometimes, all we need is a push in the right direction. If you've been thinking of living a healthier and eco-conscious lifestyle, moving to The Cannery in Davis, CA, might be the right step.Life The Cannery is all about making green choices, from the energy that powers your home to the food you serve at your dining table. And in this urban homestead community, everything you need to make such decisions is right here.
Average Home Prices
$920,000 Low
$1.285m Avg
$1.650m High
HOME PRICE PER SQUARE FEET
$465/SF Low
$498/SF Avg
$531/SF High
The Cannery is a housing development located near Central Davis, bounded by Covell Boulevard as well as the neighborhoods of Green Meadows and Covell Park.
The Cannery makes it easier to live a sustainable lifestyle in Davis, CA. The community sits on 100 acres of prime land, featuring eco-friendly homes and low-emission amenities, such as parks, sports fields, bike pathways, and a town center. All of this surrounds a 7.4-acre urban working farm that produces most of The Cannery's fresh seasonal produce.
How it started
Plans for The Cannery started in 2004 when Lewis Planned Communities purchased the former Hunt Wesson Plant. They submitted a proposal to the City of Davis in 2006 that detailed a 100-acre community that had everything, from homes to churches. Unfortunately, Lewis Planned Communities withdrew their proposal in 2009.
ConAgra picked up the proposal in 2010. They teamed up with developer The New Home Company. With the approval of the City of Davis, work on The Cannery started shortly after.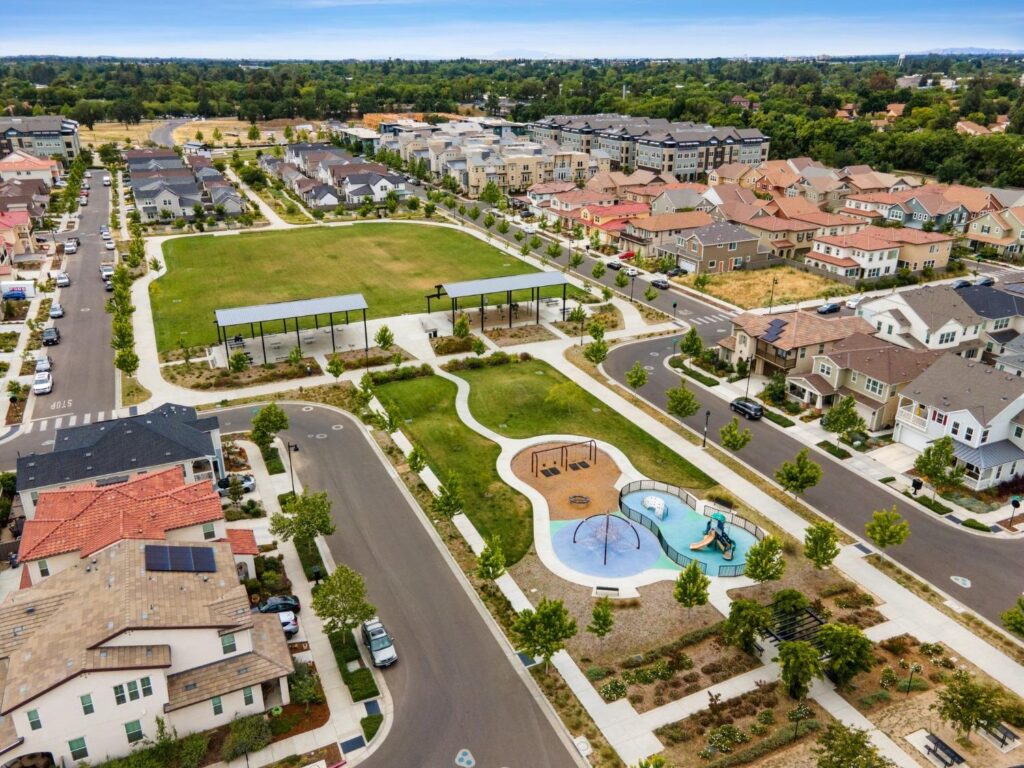 Homes at The Cannery
True to its ethos, homes at The Cannery in Davis are equipped with features that will help you achieve a sustainable lifestyle. In the long term, The Cannery will have a total of 547 energy-efficient homes. This includes townhomes, condos, low-density residences, as well as mixed-use developments, all of which are available for sale and rent.
Designed to be forever homes
Homes at The Cannery are designed to evolve with you and your household as your needs change over time. It's one of the hallmarks of Livable DesignTM, a home building concept that prioritizes long-lasting functionality. When your home can stand the test of time and your ever-changing needs, you won't have to worry about changing things up constantly and producing waste.
Some of the Livable DesignTM features integrated into every home at The Cannery include:
– Stepless entries
– Bedrooms and bathrooms in the ground floor
– Wide doors, halls, and staircases
– Kitchen work surfaces at different heights
– Reinforced towel bars
Clean and green
The Cannery takes sustainability one step further by providing energy-efficient features into all of its residences. These elements will help you lessen your carbon footprint and save on energy costs and consumption:
– Cool Roof-certified roofing materials
– Radiant barriers for cooler summers
– Attic insulation
– Photovoltaic systems
– Windows with optimal solar heat gain coefficient (SHGC) and U-Value ratings
Residents with electric vehicles will find charging much easier at The Cannery as all homes are already pre-wired for electric vehicle charging. There are also several charging stations scattered throughout the community. If you're thinking of replacing your fossil fuel car, now may be the right time to make the switch!
Pro-water conservation
Energy isn't the only thing you'll be saving when you live at The Cannery in Davis. Homes in the community are also furnished with water-reducing appliances so you can play your part in The Cannery's water conservation efforts (more about this below.)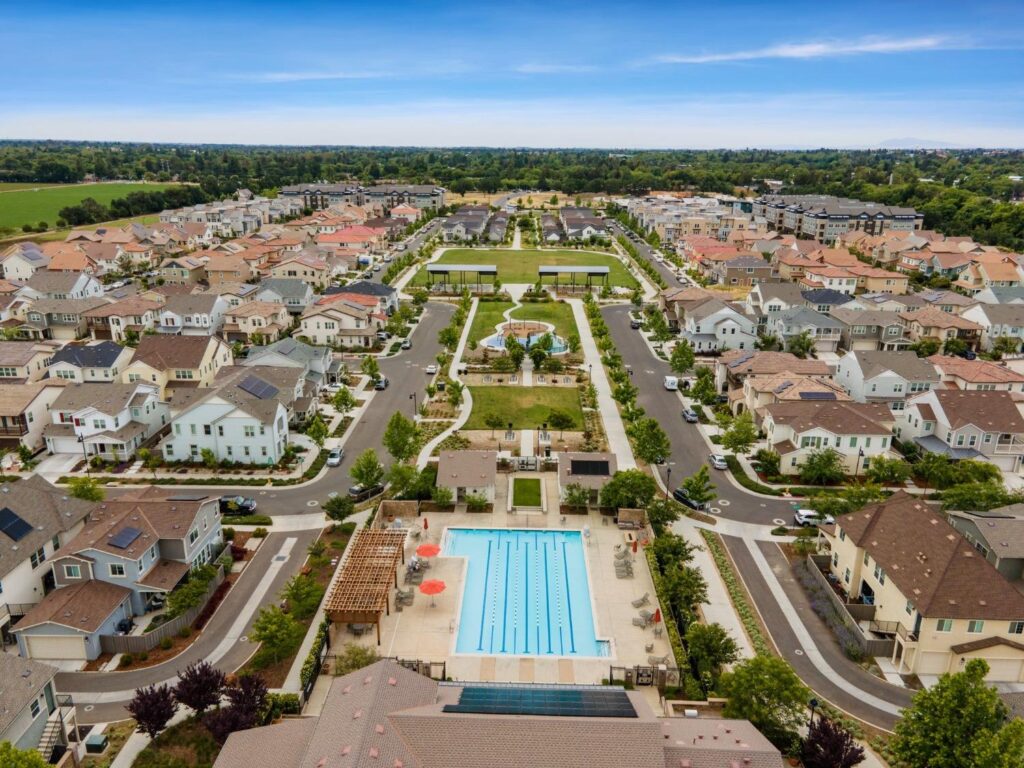 THE CANNERY'S NEIGHBORHOODS
The Cannery is divided into six smaller neighborhoods that present different real estate options for every kind of homebuyer or tenant.
Sage
Located at the northeast corner of The Cannery, the neighborhood of Sage comprises 73 single- and 2-storey luxury park homes that offer 1,943 to 3,702 sq. ft. of living space. The Cannery Loop surrounds the area on 3 sides.
The park homes at Sage were designed by Woodley Architectural Group and feature the following:
– Covered porches
– California rooms (indoor-outdoor living spaces)
– Bonus rooms
– 3 to 6 bedrooms
– 2.5 to 5 baths
– Spacious garages that can accommodate up to 3 cars
In 2016, Sage was awarded "Community of the Year" by the North State Building Industry Association's 2016 MAME (Major Achievements in Merchandising Excellence) Awards. Home prices at Sage start at the high $700,000s.
Heirloom
Heirloom is a townhouse community located along East Covell Boulevard in the southern section of The Cannery. The neighborhood consists of 72 townhomes ranging from 1,404 to 2,016 sq. ft. in size. These homes are typically 3 storeys high and feature the following:
– 2-car garages
– Bike storage
– Private decks and patios
– Gourmet kitchens
– 2 to 3 bedrooms
– Up to 3.5 baths
Like Sage, Heirloom received the "Community of the Year" recognition at the 2016 MAME Awards. It also holds the distinction for being one of the first completely sold out neighborhoods at The Cannery. 
Tilton
Located adjacent to Harvest Park along Cannery Loop, Tilton features 76 cottage-style residences that perfectly embody The Cannery's farm-to-table lifestyle. Home sizes range from 1,706 to 3,024 sq. ft., providing ample space for the following:
– Up to 4 bedrooms
– Up to 3 baths
– Attached 2-car garages
– Plenty of storage space
– Great rooms
– Chef's kitchens
– Bike storage
Tilton's cottage homes were developed by Shea Homes.
Persimmon
Another development in The Cannery by Shea Homes, Persimmon is a small neighborhood along Cannery Loop that features 44 spacious bungalows. The starting size here is larger than other neighborhoods at The Cannery, with homes ranging from 2,189 to 2,892 sq. ft. in size.
Some of the defining features of the bungalows at Persimmon include:
– Open-concept floor plans
– Porches
– California rooms
– Up to 5 bedrooms
– Up to 3.5 baths
Some of Persimmon's bungalows also come with multi-generational suite homes that are separate from the main structure. It can serve as guest rooms for visiting family members or a rental space for college students attending University of California, Davis. These 1-bedroom, 1-bathroom suite homes come with full kitchens, separate living areas, and private entries.
Beech
Beech at The Cannery features 72 court homes that offer a modern take on the classic farmhouse style. Developed by CalAtlantic Homes and designed by JZMK Partners, the neighborhood is located near the heart of The Cannery, with easy access to the community's urban farm and main park.
What sets the homes at Beech apart from the rest of The Cannery's residential real estate is the 4-sided architecture. Each cluster uses the same materials for the exteriors, making a cluster look like one unified whole. This smart design has earned Beech at The Cannery 3 awards: Best Community Site Plan, Gold Nugget 2016 Grand Award, and Residential Housing Community of the Year.
Beech's court homes range from 1,144 to 2,189 sq. ft. in size. There are 3 floor plans available, all of which feature the following:
– Front porches
– Great rooms
– Bike storage
– 2-car garages
– Plenty of ventilation
– 2 to 4 bedrooms
– Up to 3 baths
– Secondary bedrooms on the ground floor
Gala
Gala is the youngest neighborhood at The Cannery. It was developed by The New Home Company (as were Sage and Heirloom), with designs by Robert Hidey Architects.
Real estate options at Gala consist of single-story flats that are available in 5 floor plans. There are a total of 120 flats at Gala, with sizes ranging from 1,191 to 1,995 sq. ft. Half of these units are located at the southwestern corner of The Cannery, while the remaining half is located near Market Farm.
Gala's single-story flats are housed in elevator-served buildings. In-house features include:
– 2 to 3 bedrooms
– 2 to 2.5 baths
– Private decks
– Direct access to the ground-floor garage
– Full gourmet kitchens
CANNERY AVERAGE HOME STATISTICS
4 Beds
3 Baths
~3,000 Sq. Ft.
2016 Build

Featured Properties
in Cannery
There's no result found.
BEING SUSTAINABLE IN THE CITY:
THE CANNERY'S AMENITIES
The Cannery has no shortage of community amenities that are centered around the farm-to-table, locavore lifestyle that is increasingly popular nowadays. Everything you need is right here, from green spaces for rest and recreation to fresh, local produce.
The Ranch House
The Ranch House is the center of social life here at The Cannery. Essentially a clubhouse, it has an outdoor fireplace, a game room, a community room, as well as an outdoor lap pool and spa. There are also plenty of flexible community spaces where you can host special events or simply hang out with your neighbors and widen your network.
Urban farm
The Cannery's 7.4-acre working urban farm is the heart of the community. It was managed by the Center for Land-based Learning until 2020 when their lease expired. To date, The Cannery's urban farm is undergoing soil restoration to make it more productive in the long run. Cover crops planted at the farm include fava beans, sorghum, oats, peas, and vetch. There are plans to plant fruit trees in the future as well.

There are two farm business incubators working there as of 2020: Leaf & Lark Farm, which sells u-picks of summer flowers and pumpkins in the fall, and The Beecharmers, which runs beekeeping workshops and takes care of 5 beehives in the farm.

Read more about the future plans for The Cannery's urban farm here.
Town Center and Commerce District
The Cannery's Town Center and Commerce District is a mixed-use development where you can find an array of shops and services, along with high-density residences. If you're an established entrepreneur or a budding business owner, you can set up shop in one of the retail spaces for rent here.
The Town Center is also home to The Cannery's Marketplace, where you can buy fresh produce grown at the urban farm. This is open to both residents and Davis locals.
Parks
About 33% of The Cannery is dedicated parkspace. This includes parks, open spaces, buffers, and community gardens. No matter where you live at The Cannery, a green space will be no less than 300 feet away from you.
The main park covers nearly 5 acres of land in the heart of The Cannery and features sports fields, gazebos, barbecue facilities, picnic spaces, and play areas for the young and the young at heart. The Cannery also has an open-air amphitheater. This is the perfect place to host community-wide events, festivals, fairs, and seasonal concerts.
Bike paths and trails
The Cannery is home to an extensive network of bike paths and trails. This ensures you can get in and around the community with ease and in a low-emission manner. The main path is called the Cannery Loop, a 2.5-mile trail that winds uninterrupted around The Cannery. An additional 9.9 miles of multi-use trails weave throughout the area.
What's nearby?
The Cannery is ideally located in North Davis. You'll be a short drive away from great shopping and dining options, plus top-ranking public schools and a renowned university.
Schools for high achievers
Davis Joint Unified School District manages all of the public schools near The Cannery, including Davis Senior High School, Robert E. Willett Elementary, and North Davis Elementary School.
The Cannery is about a 5-minute drive away from UC Davis, one of the premier universities, not only in California, but in the world. This so-called Public Ivy is best known for its programs in agriculture and veterinary medicine. UC Davis's sprawling campus has also been recognized as one of the most sustainable in the country.
Mouth-watering culinary scene
Just because you're living an eco-friendly lifestyle doesn't mean you can't treat yourself once in a while, especially in a city like Davis. The local dining scene is worth exploring, with some of the best restaurants approximately 5 minutes away from The Cannery. Top picks include the following:
– Sam's Mediterranean Cuisine, popular in Yolo County for serving delicious kebabs and shawarmas since 1995. Aside from its classic Mediterranean offerings, the restaurant also serves vegetarian dishes like falafels and Greek veggie sandwiches.
– Mikuni, a northern California chain specialising in Japanese cuisine. Their Davis location is near UC Davis. Menu highlights include their seared tuna poke salad, chirashi, spicy tuna rolls, and veggie roll combo.
– Taqueria Guadalajara, a cozy Mexican joint in Davis with two locations in the city: one in Anderson Plaza and the other in El Macero Shopping Center. Taqueria Guadalajara has garnered a local following for their tasty burritos and tacos.
– Tommy J's Grill and Catering, a Davis institution that has been around for the past 40 years. The restaurant merged with another local legend, Froggy's, in 2013. Today, this place is unrivaled when it comes to juicy burgers, tri-tip sliders, hot wings, generous servings of biscuit and gravy, and more.
More parks and recreation
If you need a change of scenery, check out the following parks and attractions in Davis:
– Wildhorse Golf Club, which is recognized as the best public golf course in Yolo County. It's home to an award-winning course designed by none other than golf course architect Jeff Brauer, who made good use of trees, ponds, and other water features to create an exciting course. If you're just here to practice, Wildhorse also has a practice facility that includes 24 range practice mats and 30 seasonal grass stalls. Lessons are offered to players of all skill levels.
– Davis Community Park, which is located within short walking distance from The Cannery. On-site amenities include a dog park, several play equipment for kids, picnic areas, restroom facilities, volleyball sand pits, bike paths, lighted tennis courts, and a pool complex, to name a few. Davis Community Park is also only steps away from the skate park.
– Jan Shrem and Maria Manetti Shrem Museum of Art, located within the UC Davis campus. It houses UC Davis's impressive 5,000-item fine arts collection that includes art from antiquity as well as fine print and collectibles detailing the history of UC Davis. Before you visit, check out the current and upcoming exhibitions here.
– Bohart Museum of Entomology, also found within the UC Davis campus. Here, you can learn the essentials of arthropod diversity and conservation. The museum is home to about 7 million specimens, making it one of the largest insect collections in the country.
HELPFUL RESOURCES IN CANNERY
Ready to live green at The Cannery?


Kim Griffiths is a Davis Realtor who can help you make the move. An expert on luxury real estate, Kim has sold over $100 million in luxury homes and over $134 in new construction since she became a Davis real estate agent in 1999.
Davis's real estate market has the tendency to have limited inventory. Let Kim and her local connections help you fulfill your real estate goals in The Cannery, Davis, CA. Get in touch with Kim today at 530.902.3632 or send an email to kim.griffiths@cbselectre.com to get started.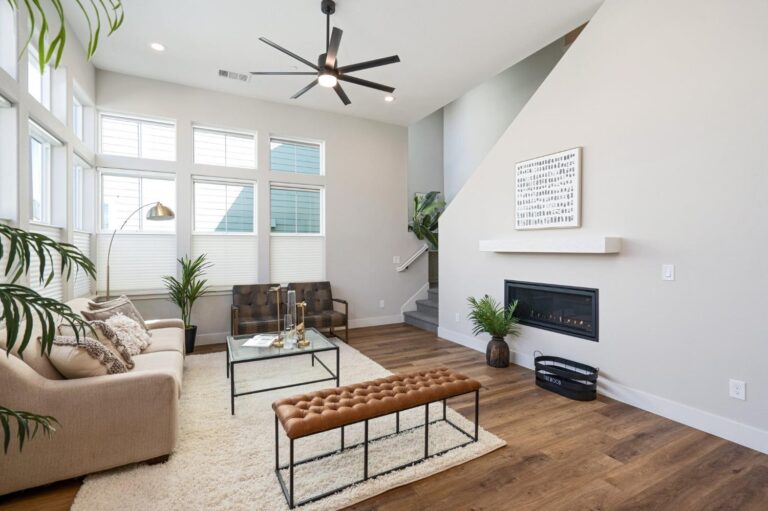 Get In Touch